News
Once in a Blue Moon - Luciano Biondini & Klaus Falschlunger
Top of the World Album - british musicmagazine "Songlines" 8/2021 "...two musicians in their musical prime. Inventive, intriguing and wonderful." - James Roroston
"Nach 40 Minuten ist das Album zu Ende. Man wünscht es würde 40 Stunden dauern." – Hans Jürgen Schaal in "Fidelty" 3/2021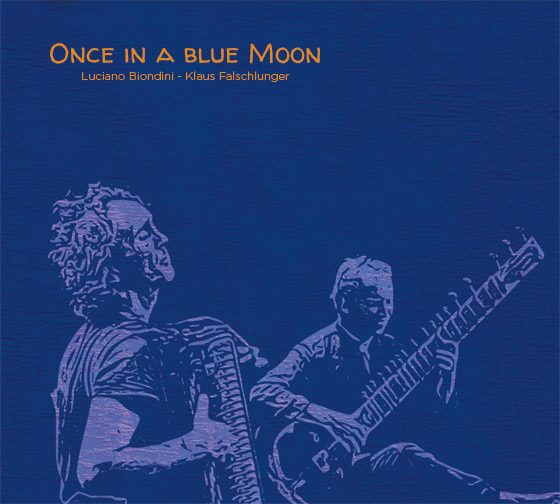 Accordionist Luciano Biondini and sitar player Klaus Falschlunger are among those musicians who are always looking for a meeting point of different musical traditions and styles.
On their first album "Once In A Blue Moon" the two artists are exploring the possibilities to shift the boundaries and find a mix between Indian music, jazz, pop and folk
– music filled with poetry, energy and fine humour.
Once in a Blue Moon - Duo Teaser
Duo Line up:
Luciano Biondini – accordion
Klaus Falschlunger - sitar, konnakol
Once in a Blue Moon - Trio Teaser
Trio Line up:
Luciano Biondini – accordion
Klaus Falschlunger - sitar, konnakol
Niti Rajan Biswas – tabla & percussion
Neues Programm – Saraswati String Quartett
Circle for Circle
Drei Streicher & eine Sitar
Line up:
Lydia Kurz - violine & viola
Irina Zehm - violoncello
Clemens Rofner - kontrabass
Klaus Falschlunger - sitar
Neues Programm – Geo Popoff & Klaus Falschlunger
Urban Strings – Beatbox & Sitar
So ein Duo kann es eigentlich gar nicht geben! Beatbox & indische Sitar?
Aber was Vocalist Geo Popoff, seines Zeichen zweifacher Beatboxweltmeister & Klaus Falschlunger, famoser Sitarist, bieten, lehrt einem das Staunen. Die Stücke der zwei Musiker strotzen nur so vor Spielwitz und Einfallsreichtum.
Indische Musik, HipHop, Folk, Pop....doch in dieser Besetzung klingt einfach alles ganz anders.
Es ist ein fulminanter Austausch und Miteinander um jegliche erkennbare klingende Welten zu kreieren und zu erweitern - ein Traumtanz zwischen östlichen Balladen und explosiven, rhythmischen Elementen.
Zoltan Lantos & Klaus Falschlunger – Mountains and Plains
Noah´s First Breath - live
Der vielfach preisgekrönte ungarische Violinist Zoltan Lantos und Klaus Falschlunger, einer der profiliertesten europäischen Sitarspieler, führen ihre Instrumente in ausführlichen Dialog. Mit ihrem neuen Programm "Mountains & Plains" erkunden sie gemeinsam die westlichen und östlichen Musiktraditionen. Sie schlagen Brücken zwischen indischer Musik und Jazz, Folk und Pop und überzeugen mit einer faszinierenden Mischung aus exotischen und wohlbekannten Klängen!
Do you know the way?
new song & video in the Austrian Alps ...
L.Biondini & K.Falschlunger
"Once In A Blue Moon"
"Incredible World"